Cell Illustrator 4.0
Cell Illustrator 4.0 is the previous version of Cell Illustrator. It is described in detail in the online publication Cell Illustrator 4.0: A computational platform for systems biology.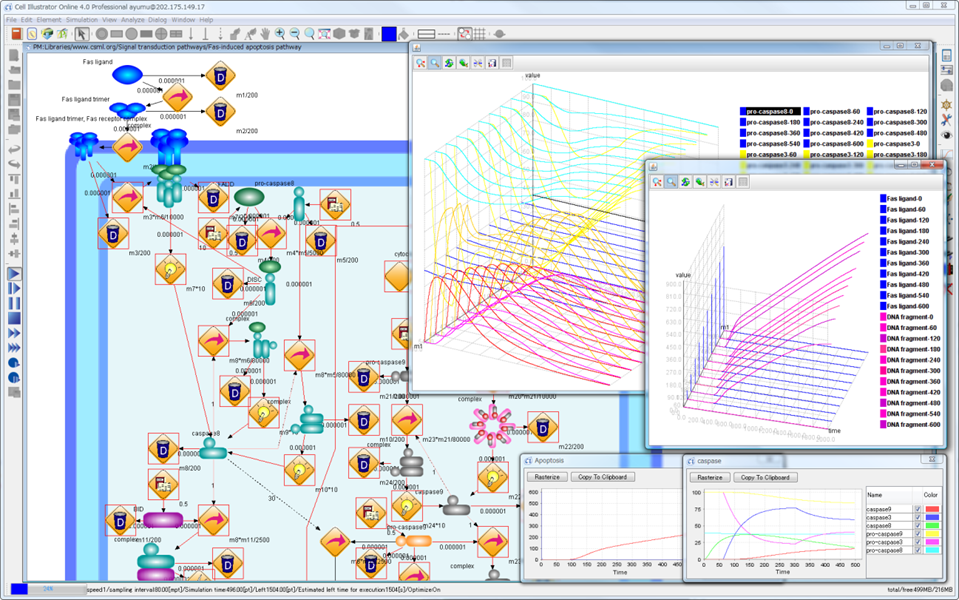 Cell Illustrator 4.0 launches from Browser with Java web start technology, the trial version is available for two weeks from the following websites,
Note: Both versions of Cell Illustrator 4.0 and 5.0 can be run from the same server using the same user name and password. For a list of differences between the two versions please check the Release Notes
Book
The book "Foundations of Systems Biology: Using Cell Illustrator and Pathway Databases (Computational Biology)" written by Masao Nagasaki, Ayumu Saito, Atsushi Doi, Hiroshi Matsuno, Satoru Miyano was published by Springer on May 31, 2009. This book describes how to create to create highly complex pathways for simulations and analyses using Cell Illustrator. There is no need for prior knowledge in differential equations or programming. The prerequisites are interest in biology, ability to operate a cell phone, and mathematical ability of a standard middle school student or better.
It is available at amazon.com:
Online Materials
A step-by-step tutorial and an extensive manual are available in PDF format.

A list of sample models can be found at Case Studies